SMEs expected to provide bright future for Philippine outsourcing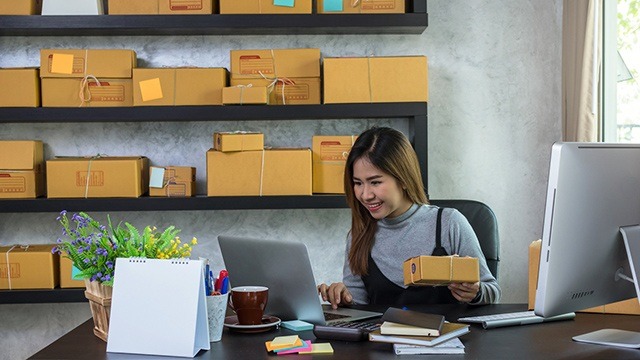 The Philippine outsourcing industry can look to small and medium enterprises (SMEs) from the West to make it relevant despite market saturation, skills shortages, and a rise in technology innovations such as artificial intelligence (AI) and automation. According to Derek Gallimore, Outsource Accelerator founder, the "next wave" of outsourcing will create 30 million high-paying skilled jobs for Filipinos and offer higher salaries and unmatched resilience to automation and AI.
Outsourcing has now become accessible to SMEs due to advanced technology, cheap telecommunications, and cloud-based infrastructure, said Gallimore. The growing pace of digitization and globalization also allows companies to pick low-cost destinations to provide staffing needs, and the Philippines is expected to be the destination of choice for SMEs due to its outsourcing pedigree, cultural alignment, young educated workforce, and good grasp of the English language, he noted. However, Gallimore suggested that the Philippine outsourcing sector should ensure that it is better represented online to effectively promote its services and efficiently connect with potential employers.
The Philippine outsourcing sector has grown in the last 25 years to contribute 11% of the country's GDP.
See the full article below: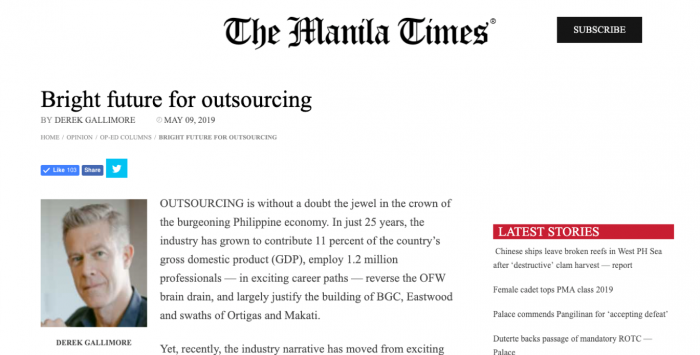 Bright Future for Outsourcing
This article was first published in Manila Times on May 09, 2019 – read here.
OUTSOURCING is without a doubt the jewel in the crown of the burgeoning Philippine economy. In just 25 years, the industry has grown to contribute 11 percent of the country's gross domestic product (GDP), employ 1.2 million professionals — in exciting career paths — reverse the OFW brain drain, and largely justify the building of BGC, Eastwood and swaths of Ortigas and Makati.
Yet, recently, the industry narrative has moved from exciting growth and potential, to talk of a sunset industry, skill shortages, and decline due to market saturation, automation and AI.
In stark contrast, evidence points not towards a decline, but an exponentially brighter future for Philippine outsourcing. A future that could generate 30 million extra high-paying skilled jobs, and take the industry from its current $24 billion to over $600 billion in revenues. This is the "next wave" of outsourcing, which is not only 30 times bigger than current, but offers a broader range of higher-skilled jobs, higher salaries, and an unmatched resilience to automation and AI.
Advertisements
So, where will these 30 million jobs come from? Answer: the small and medium enterprises (SMEs) sector of the "West."
Outsourcing, as a result of the high initial infrastructure costs and logistics of the early days, has historically been exclusively available to big conglomerates of the world. SMEs were excluded because they didn't have the scale. But with advanced technology, cheap telecommunications and cloud-based infrastructure, outsourcing has never been more affordable, accessible and flexible — perfect for the SMEs.
Despite the name, the SME sector is anything but small. Our research shows the "the West" (mainly English-speaking countries), is home to 35 million SMEs, which represent 95 percent of the total number of businesses. They collectively employ 100 million people — 60 percent of the workforce — and produce $12 trillion in revenues — or 50 percent of the global GDP.
Ironically, the biggest barrier to SMEs outsourcing is simply their awareness, education and comfort around the opportunity. Overcoming these hesitations will lead to an inflection point, and broad adoption of outsourcing.
To date, the entire outsourcing industry — employing 1.2 million people — is supported by just 15,000 large corporate clients, most of whom have been outsourcing for 20 plus years. For perspective: 95 percent of large corporations outsource whereas only 0.5 percent of SMEs outsource — so there are still 35 million SMEs out there, yet to outsource.
As already mentioned, technology is advancing hand in hand with globalization at breakneck speed. The younger generation of Filipinos are now completely connected to the Western world. They grow up on a diet of YouTube, Netflix, NBA basketball, Hollywood movies and Silicon Valley start-ups. They communicate via the same apps as their Western counterparts and partake in the same forums and online coding academies.
Historically, human labor markets are rigidly restricted to geographical locations; however, with digitization and globalization, the world's employment is moving towards "one" marketplace, as will the educational and professional spaces. People across the globe now work from behind computer screens, and communicate via a homogeneous suite of workplace software. This computer interface means that the geographical location of the worker is becoming almost irrelevant.
EXPLORE OUTSOURCING: GET 3 FREE QUOTES
This provides an incredible opportunity for Filipinos to shine on the world stage like never before. Now, more than ever, it doesn't matter where you were born, where you were schooled, or where you are sitting. It's just a matter of who can produce great work, at what cost. There has never been a point in history where employment has been more meritocratic.
This globalization means that Western employers will naturally look to the Philippines — and other low-cost destinations — to provide their staffing, instead of just their own geographically constrained hometown. The Philippines is increasingly the destination-of-choice for SMEs, due to its outsourcing pedigree, cultural alignment, young educated workforce and grasp of the English language.
Outsourcing and offshore employment have been proven by large corporations — while adoption by the SMEs has been slow, globalization and technology will speed this along.
The only constraint to the Philippines is the effective promotion of its services, and efficient ways of connecting the employers with the employees. The world is becoming increasingly "digital," and so, it is essential that the Philippines' outsourcing sector is better represented online.
Until now, there has been no outsourcing marketplace, and this is desperately needed. The country's outsourcing suppliers are disaggregated, and are in need of a coordinated sophisticated approach to marketing and promotion of their sector to the world market.
These factors are coming together now though, and combining to create a perfect opportunity, which is a win-win for all market participants. This is an exciting time for the Philippines.
Derek Gallimore is the founder of Outsource Accelerator, the world's leading outsourcing marketplace and advisory platform. Find out more about it on www.outsourceaccelerator.com or reach out to derek@outsourceaccelerator.com.
This article was first published in Manila Times on May 09, 2019 – read here.